As around 90 percent of the world's largest cities are located at a waterfront, living on or near the water has always been attractive – to begin with even practical. The cities' most expensive square meters or square feet are often located with a view of the water. Historically the houseboats have been somewhat simplistic or even random constructions, where people have chosen to live in an old boat, with all that had to offer of spartan solutions, cold drafts, and other inconveniences.
With climate change and water level rises, living on the water has its advantages as you would naturally move with water, instead of getting flooded. And the inconveniences are a thing of the past in the houseboats, I have sought out below.
Floating house
In Portugal, Go Friday – yes, that's the company name, are producing a floating house, which is not only attractive to the eye but also eco-friendly and very modular. In fact, they claim the house fits in two standard containers, enabling shipping to most locations on earth. If you are not to move it too far, it comes equipped with two outboard motors allowing a moderate speed of 3 knots.
Not only is the house modular for shipping, but you can custom order it to your needs from studio to three-bedroom living space. It comes with fully equipped kitchen, heat-pump, and AC generator, and even a barbecue on the top deck, pellet stove when the weather is not for open-air barbecuing – heck there is a wine cellar option as well. Depending on where on earth you choose to have your floating house delivered, it can produce 80% of its annual energy consumption and fully charged you don't have to worry for seven days. During the summer season, it will be 100% self-sufficient, according to Go Friday.
Faréa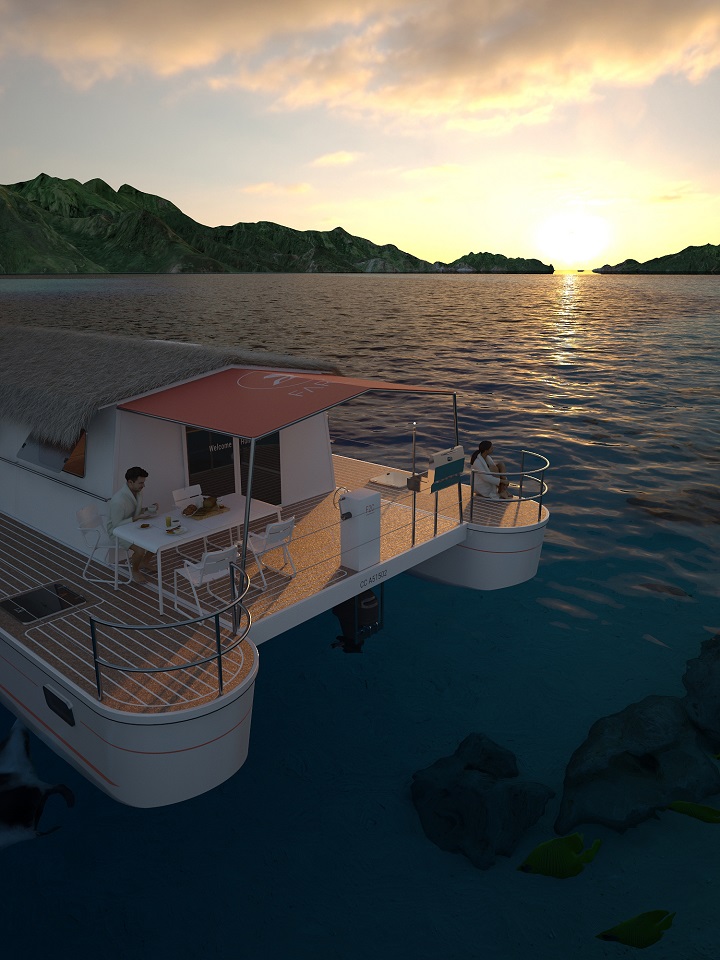 Another player on this market is France-based Farea. I would say, it is its own kind. The houses produce their own electricity and water. And it ships in a 40-foot container. In many countries, France included, you are only allowed to live on the water in a boat, which the Farea house also classifies as – a Category D vessel to be accurate.
Other, more interesting, specifications describe the houseboat as 84 square meters overall, with a length of 11 meters, width 7.15 meters, 5 twin cabins, 3 terraces, fully equipped kitchen, bathroom, toilet (dry), barbecue and plancha on the terrace, outside shower. The Faréa is autonomous in electrical energy (photovoltaïc panels, battery, charger.) and in regards to water due to a «REUSE» system allowing to filter, disinfect and reuse the water (shower). For cooking, there's a different water tank.
No.1 Living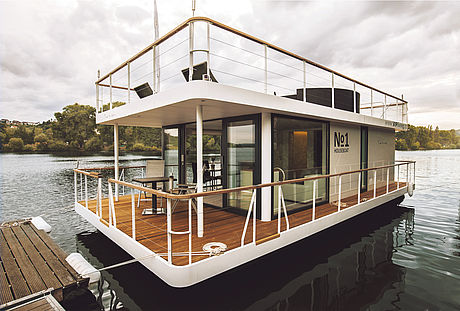 HOUSEBOAT s.r.o. of The Czech Republic displayed their No.1 Living houseboat back in 2013. If you like the maritime expression as a boat railing gives you will like the looks of this houseboat.
The manufacturer promises its steel construction with anticorrosion protection has no maintenance requirements. Floatation is ensured by polyethylene segmented floats which are resistant to UV radiation and frost with inner tanks (470l for waste and 470l for clean water).
No.1 Living is equipped with a kitchen, a full bathroom, and a cozy bedroom with plenty of storage space. It offers a great variety of interior layouts and functions and the space for your ideas. All models can also have full energy, water, and waste independence.